1. We send dedicated


emails on behalf of your brand, product & service to over 150,000+ nonprofit professionals inviting them to attend a live demonstration of your product/service.

2. Nonprofit professionals


receive the invitation to attend your product and sales demo and register. By registering they are already showing an intent to purchase your product or service!

3. During the live sales


demonstration the nonprofit audience has been educated about your product and service and some of the audience opts-in to be contacted by your company!
Frequently Asked Questions
Why are the leads you send us more qualified than leads we can get through any other marketing channel?
The leads are more qualified because of 2 primary reasons:
By registering for your product/sales demonstration they are showing an intent to purchase.
During the live demo when they opt-in to be contacted by your company they have already been educated by the demonstration. We pass the hot leads to you and during the live demo they can also: schedule a one-on-one demo with your sales team, create a free account, and more!!!
How is it possible that you can reach so many nonprofit professionals?
NonprofitLibrary is a part of a network of sister companies ( CharityHowTo , NonprofitLibrary & Nonprofit -Apps ) all of which are leveraged to expose your brand and to invite people to register for your sales and product demonstration!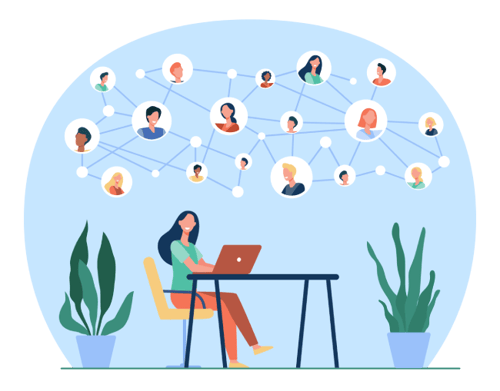 Do you share the nonprofit registration data with the paying sponsors?
No, we never share any of the registration data for any of the live demos or streaming demos. However, when the nonprofit professional employee loves what they see, they opt-in and we pass the information along to you!
Why don't you share the nonprofit registration data with the advertiser/sponsor?
At NonprofitLibrary the community has the opportunity to satisfy their curiosity and learn about products and services that can help their nonprofits succeed without getting on the sales and marketing list. This is in part why they love NonprofitLibrary so much, they trust they can learn about products or services in a comfortable and trusting environment. In fact, we have 4.8 stars on Google reviews from nonprofits who watch the sales demos.
Is there any reason why our company shouldn't sponsor a product and sales demonstration to the NonprofitLibrary community?
Yes, if your product is designed for very large nonprofits, is very expensive, or an extremely long and complex sales cycle, NonprofitLibrary is not right for you. Conversely, if your product or service is for small to medium nonprofits or the size of the nonprofit is of no consequence then we invite you to book a one-on-one call with us here.
Can any company sponsor a demo at NonprofitLibrary?
No, we want to get to know you, your company, your product and service and make sure it is an exceptionally excellent fit for NonprofitLibrary and our sister communities and you. Additionally, we like to offer the nonprofit community something special for attending your live demo, such as a discount code, a free onboarding call, etc.
How much does it cost?
It's a performance-based pricing model.
You are paying a nominal fee per registrant, and a fee per opt-in after the audience has seen your product and sales demonstration.
There are different options to choose from depending on your company's needs.
For example, some companies have a sales team and would like to collect leads where we ask the audience if they'd like to be contacted by a member of your company's sales team and we pass those leads to you. Other companies would like to collect leads and also ask the audience to dive deeper and book a one-on-one demo.
You can choose from a combination of desired outcomes to meet your company's needs best. For example, there are some companies that have no sales team at and would like the primary objective for the audience to activate a free trial or a free account. The pricing is customized to meet your needs and your budget.
Can we start off with an experiment and do one demo and then potentially do more?
Absolutely, you can start off as an experiment and see the results and then if you'd like you can schedule more sales demos. In fact, some companies have loved the results so much and are choosing to reschedule many times and into the following year(s).